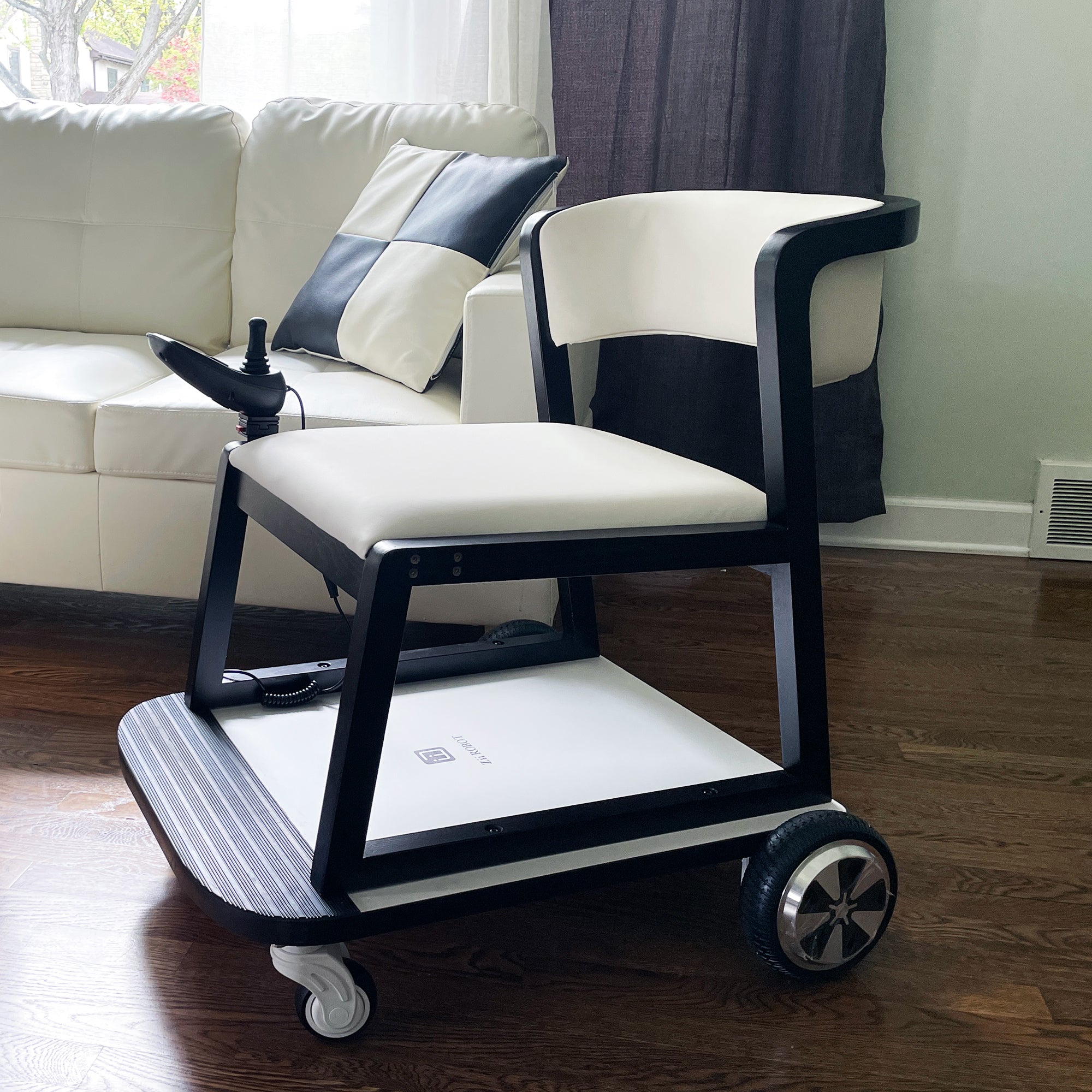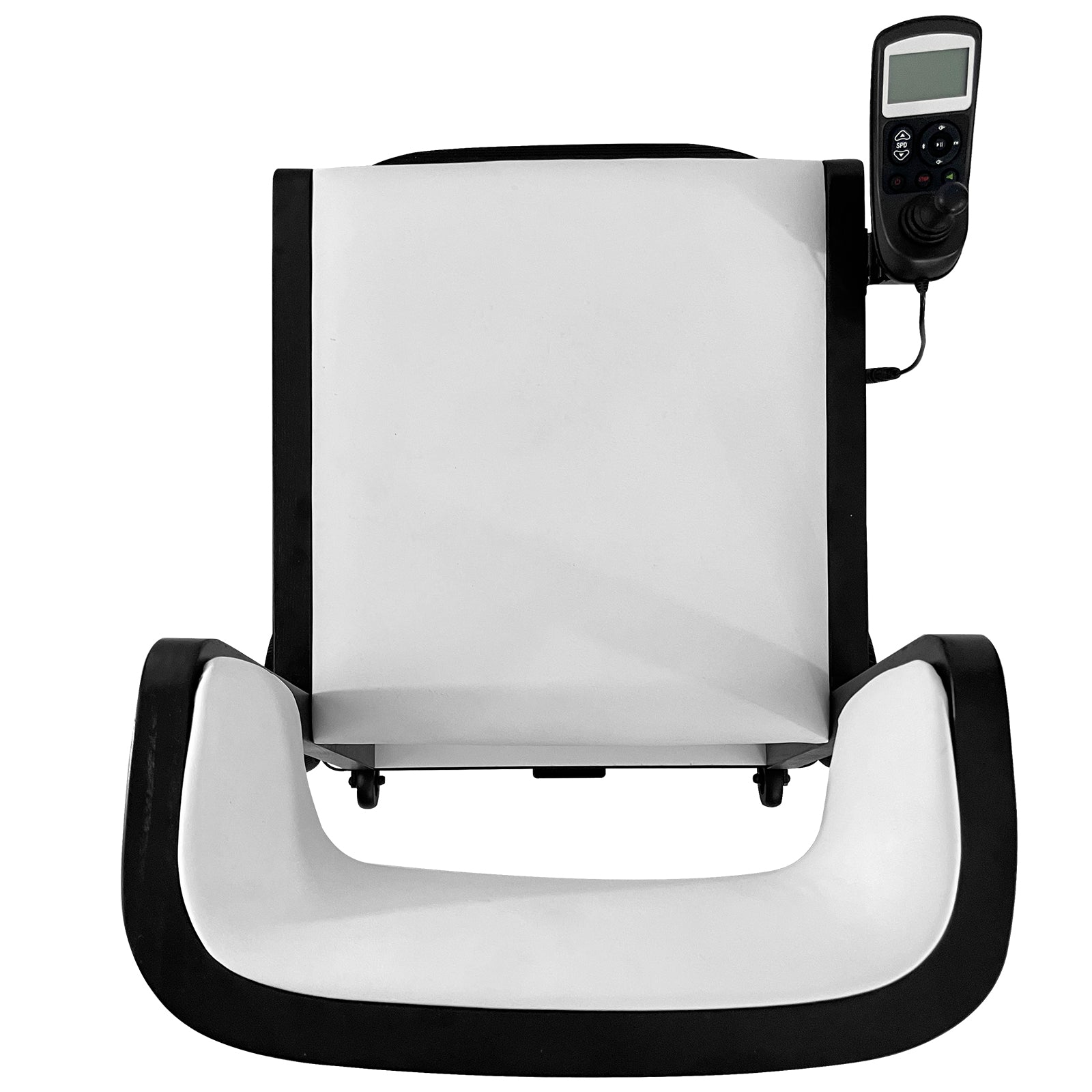 ZiiROBOT Mobility
ZiiLIF FurniBOT C1-2024 Smart Chair Stylish for Indoor Mobility
Regular price
$899.00 USD
Sale price
$899.00 USD
Regular price
$1,999.00
The Package Includes:
C1 Base Mobile Platform

C1 Chair

One Lithium Ion Battery

One Charger

Manual

Joystick Module

All Time Warranty
Warranty Terms:
From the date of purchase
You can contact us to get a new upgraded smart chair 2025 or a new ZiiLIF R3b-2023 mobility scooter for free by providing us your feedback of the 1-year usage.
Paid service will be provided by the manufacturer or distributor beyond the warranty period. 
Key Specifications:
Stylish Chair: Brand new design of our patent-pending robotic technology! Our C1 Smart Chair transforms a cumbersome wheelchair into a stylish furniture chair. It is specially designed for indoor use.
Assimilate the User into His/Her Peer Group: Its elegant style (selectable)  matches that of exiting chairs, enabling its user to closely and seamlessly interact with his/her peers.
Easy Operation: Our C1 Smart Chair can be operated by the joystick module easily and the joystick module can be installed on either right side or left side of the chair
Maximum Capacity load: 200 lbs (90.7 Kg)

Dimensions(LXWXH): 27 in. (686 mm) X 26.5in. (673 mm) X 27 in. (686 mm)

FM Radio receiver

Additional charging port on Joystick (New)

Front Caster: diameter 3'' (76 mm) X 1.5'' (38 mm)

Rear Wheel: diameter 6.5'' (165 mm) X 2'' (49 mm) Wheel hub motors (maintenance free)

Max Speed: 3.1 mph (5 km/h)

Obstacle Clearance Height: 0.5'' (12.5 mm)

Driving Range: Single battery pack covers 7.5 miles (12 km) to 10miles(16km) on one charge. 

Travel Friendly Battery: Backup batteries can extend your range and our design reduces the charging time of each. You are able to charge one battery while using another one, it makes your chair active all time. Batteries can be manually replaced with ease. Put the battery in a protective pouch alone when removed from C1 Chair.

Minimum Steering Radius: 1.8 ft (0.55 m)

Ground Clearance: 1.95'' (50 mm)

Controller: Smart Brushless. 

Weight (without the Battery): 37.5 lb (17 kg)

Brake System: Electric-Magnetic

Driving System: Double Rear Drive

Battery: 25.2V/10.4Ah Lithium-ion Battery 3.5lb (1.77 kg)

Single Hub Motor Power: 100W

Charger: 29.4V/2A
Thoroughly inspect your product upon delivery. If the product is damaged or not the correct one, contact us for returning the product. 
Once accepted, the following conditions apply:
You can request to return this purchased item within 2 days upon delivery with no questions asked. Otherwise, You are responsible for the cost of return shipping and the product must be in the original packaging. The item must be in new condition, unused. All accessories included in the scooter box must be returned, including the chargers, power keys, basket, etc. Items canceled after the product has already shipped will be considered a return. Delivery fees, including next-day and overnight shipping fees, and other service fees are not refundable. 
Return Process:
Request a Return Authorization (RA) from ZiiRobot within 30 days of delivery acceptance. Once the RA has been issued, ship the item back to the address noted on the RA within 10 days. Upon receiving the product, it will be inspected for damage and signs of use. A restocking fee will be charged depending on the inspection. It may range between 5% and 25% of the selling price. If the returned item shows any signs of use, ZiiRobot will not be able to issue a refund. In the event your item is damaged and not returnable ZiiRobot will contact you and ship the item back to you at a preferred address. You will be responsible for the shipping cost.  If your return is approved, your refund, minus any restocking fees, will be refunded to your original form of payment.